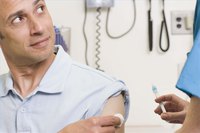 How to Treat Gout With Cortisone Shots. Cortisone is a medication known to reduce inflammation. Many chronic gout sufferers turn to cortisone shots each year for relief of inflammation causing pain from a gout attack. The procedure is done by a physician, usually in the doctor's office. Read on to learn how to treat gout with cortisone shots.
Call your doctor as soon as you feel the pain of a gout attack. Set up an appointment to speak with your doctor and treat your gout. When you set up the appointment, tell the appointment scheduler you are interested in having a cortisone injection. This may help schedule you to have your appointment and injection at the same time. If you already have a doctor you see for gout, you may be able to schedule the cortisone shot right away.
Bring someone with you to the appointment. If you are able to drive to the appointment, you might not be able to drive home. Have someone drive you and help you in and out of the car, putting as little strain as possible on the affected joint.
Ask any questions you have about the procedure or about cortisone shots before the doctor starts. Vocalize any concerns you have and make sure you are comfortable with the procedure before it starts. If it helps you to remember, bring a list of items to talk to your doctor about that you wrote down before the appointment. This will help you and your doctor treat your gout effectively.
Remember to relax and take deep breaths when having the actual cortisone injection. The doctor will prep the area with a cleansing solution. The area will then be given a local anesthetic. Let the doctor know if you are in a lot of pain. Be sure to let the doctor know exactly how you feel since no one else can help you explain your pain.
Follow up with the doctor after the injection if new symptoms appear or current symptoms become worse. If your doctor prescribes medication after the procedure to treat gout, take all of the medication as directed. Your doctor may tell you to stay off of the affected joint and rest for a few days after the cortisone injection.