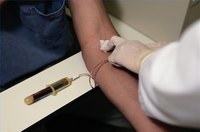 How to Test for Uric Acid. Testing for uric acid is done through a simple blood or urine test ordered by a physician or other health care professional. The blood or urine test will confirm a gout diagnosis and measure proper kidney function. Read on to learn how to test for uric acid.
Seek Medical Attention
Seek the help of a medical professional if you believe you are having an attack of gout. Do this as soon as possible. Only a medical professional can diagnose gout, order a test and help you rid the condition.
Prepare a list of questions about testing for uric acid before the test. If you have questions for your physician or the person who will take your blood or urine sample for the test, tell them you have prepared a list of questions you might have and ask them before starting.
Follow any and all medical instructions. A doctor will know when it is best to have the test for uric acid. You may be instructed to wait until your medication is adjusted. Be sure to tell your doctor about each medication you take. If you see a specialist for your gout condition, he may not be aware of medications prescribed and monitored by your family physicians or other specialists. Some medications will affect the results of the test for uric acid.
What to Do on the Day of the Test
Do not to eat or drink anything for four to eight hours prior to giving a blood sample, per your doctor's orders. There is nothing specific to be done for the test for uric acid unless a physician instructs you otherwise.
Do not do anything unless instructed otherwise before the test. If your physician orders a urine test instead of a blood test, you will not have to fast prior to starting as you would with a blood test. You will then be required to collect your urine for a 24-hour period.