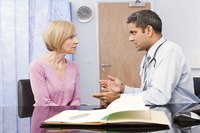 How to Test for Trichomoniasis. Though trichomoniasis is easily diagnosed and cured, it is important to visit your doctor to receive the appropriate treatment as early as possible. Though you may suspect that certain symptoms of trichomoniasis are present, only a doctor will be able to perform the proper examination and other tests to diagnose trichomoniasis correctly and prescribe any necessary treatment. Read on to learn how to test for trichomoniasis.
Schedule an appointment with your doctor to examine your symptoms. Your doctor will need to perform a physical examination and review your medical history. Be prepared to answer questions about your recent sexual activities.
Know that if you are a woman, your doctor will need to perform a pelvic examination to check your vagina for symptoms. As part of this procedure, you will be asked to recline on an examination table with your feet raised. The doctor will then examine the inside of your vagina, specifically the cervix.
Prepare for your doctor to be looking for small sores around your cervix that are usually red in color. These sores are sometimes visible during a physical examination, though further tests are usually required.
Be aware that a laboratory test, sometimes referred to as a wet prep, will most likely be required. To perform this test, your doctor will spread your vaginal walls with an instrument called a speculum. A wet swab will then be pushed through the speculum to take a fluid sample from around the cervix.
Realize that your doctor will secure the fluid sample on a slide. He will then examine the slide under a microscope or send it to a laboratory for observation. In either case, a microscope will be used to look for the bacteria that cause trichomoniasis.
Understand that it usually takes about one week to get results from a trichomoniasis laboratory test. A positive test for trichomoniasis indicates that the bacteria were found on the slide prepared by your doctor.
Keep in mind that for men, the test for trichomoniasis requires a sample of discharge from the urethra. A sample of the discharge is examined using the same procedure used to examine vaginal fluid.