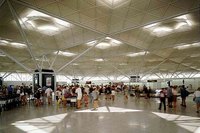 How to Get to London Stansted Airport. Stansted airport is London's fastest growing international airport. Situated 35 miles from North-East London, the airport serves over 16 million passengers and 30 airlines. Follow these steps to reach London Stansted airport and return.
Go by bus. The National Express runs coaches hourly, 24 hours a day from Victoria Coach Station. The journey takes an hour and 40 minutes and costs £10 one way and £15 return. This coach makes stops at Golder's Green, Finchley Road underground station, St Johns Wood, Marylebone, Baker Street, Marble Arch and Hyde Corner. You can contact them for details on 08705 808080.
Get a cab. The journey will cost you around £80 to central London, which may be more than the cost of your flight, but think how relaxed you will feel. Try to only use black cabs rather than unregistered mini-cabs. Stansted's official taxis are Airport Carz on 0127 966 244.
Take the Stansted Express. This is the quickest way to get to and from the airport at only 45 minutes from Liverpool Street station. The Express also makes a stop at Tottenham Hale station.
The Stansted Express is equipped with facilities for disabled passengers, including specially designed toilets and seating areas. Ticket prices vary and a first class, single ticket will cost £23.50 if booked online, or £24.50 if bought at a ticket machine. An Express class single ticket is cheaper at £14.50 and £15.50 from the machine. Fares are around £1 cheaper if travelling from Tottenham Hale station.
Take your children. If the kids are flying with you and travelling on the Stansted Express, ticket prices will be £7.25 for an Express class single. Children must be aged 5 to 15 for these fares. Children under 5 travel free. For further details on the Stansted Express, visit their official website at www.stanstedexpress.com. www.stanstedairport.com.