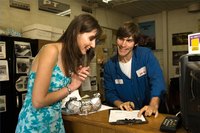 How to Keep Customers Loyal. In order to be successful at any business, there has to be happy customers willing to buy. Happy customers are repeat customers, and repeat customers are the most sought after kind. A customer can be kept loyal in many ways, most of which are free or inexpensive for the business.
Offer a quality product or service and stand behind it. Fix any problem with your product and make sure the customer is happy with it.
Offer new products and services to bring back repeat customers and keep them loyal to your business. Send them notices of new products or changes in pricing or product lines. Keep your company's name firmly in their minds.
Offer a club or other exclusive group just for loyal, repeat customers. Make them feel special for doing business with you.
Give incentives for repeat business. Offer the customer who comes back for more a small discount on the next purchase, or a product upgrade. Start a points or discount card program that earns discounts or free products for the loyal customer.
Provide a way for customers to complain or to leave suggestions. Listen to the suggestions and implement the ones you can.
Make sure to be better than the competition. Let the customers know why you are better and what you have to offer that's better than other companies.
Anticipate the customer's needs and provide service that is above the minimum standard. Put the customer first and it will show in their buying experience.