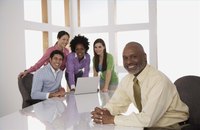 How to Encourage Employee Loyalty. Spending the time and energy in cultivating harmonious working relationships with employees is a wise investment. High employee turnover rates can cost employers valuable time and money when it comes to refilling positions and retraining new employees. Finding ways to keep employees happy can go a long way to encouraging loyalty and longevity in the workplace.
Offer enticing and complete benefits packages. This includes salary and a comprehensive health care plan. Today's employees are looking for medical, dental, prescription and life insurance coverage. Include financial packages that will assist employees with their future security, such as 401(k) plans and profit sharing.
Work on becoming family-friendly. Employees are responsible for family care that is no longer limited to their children. They are also taking on the care of their spouses and parents, and flexible schedules can assist them in meeting these obligations. Try flex-time scheduling, job sharing, compressed hours and telecommuting.
Invest in your employees' futures. When you provide opportunities for advancement, employees will be less likely to look for a fulfilling career elsewhere and will offer their loyalty to you. Implement on-the-job training and leadership opportunities and tuition reimbursement.
Reward accomplishments freely and often. Employees need positive feedback to know they are appreciated, and recognizing good performance encourages higher productivity levels. Consider incentives and bonuses when goals are reached, and don't dismiss the value of a monthly lunch out or gift cards.
Adopt an open, clear and frequent communication policy. Inclusion in company decisions and happenings will foster feeling of trust in your employees and helps make company expectations known. Keeping an open door between management and workforce lets employees know that they have someone they can go to with questions.