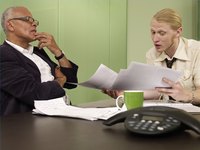 How to Deal With Employee Complaints. Every business has its share of problems. If you have even one employee, you will eventually have an employee complaint. The more employees you have, the more complaints there will be. How you deal with the complaints is what makes the situation better or worse.
Create an open-door policy. An open-door policy allows any employee to come directly to any manager in the company at any time with any complaint. By creating this policy, you will have a direct way for your employees to address their concerns to you, not their co-workers.
Develop relationships. Employees will come to you with a complaint only if they feel comfortable talking with you or if the issue has become such a problem that they have no other choice. Spend time talking with your employees on a regular basis.
Listen to the employee. Employee complaints may not always be valid complaints. Even if you disagree with what the employee has to say, you still need to listen objectively to his side of the situation.
Document your conversation. Take notes on what the employee complaint is about, who brought the complaint to you, and what actions are going to be taken to resolve the complaint. Give a time line of when these actions should be completed. If it is a large issue that could have legal actions, be sure the employee signs a copy of the documentation.
Keep it positive. You are always better off being able to address employee concerns than not knowing what issues are within your company. Look at each complaint as an opportunity to better yourself, your employees and ultimately your business.