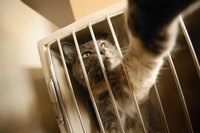 Traveling can be a fun, life-changing experience. Whether you're on the move to a new home, or just on the road for fun, it's natural to want your cat to come for the ride. There's a lot to think about when traveling with a cat, but a little planning and consideration for your cat's comfort and safety can make it smooth sailing.
First Stop: Vet
No matter how you're traveling with your cat, the first order of business is to pay a visit to the vet and have your kitty checked out to make sure she's in fine form before she travels. Talk to your vet about your destination and its vaccination requirements; if your cat isn't up to date on required shots, the vet can make sure she's current. As well, a basic exam is in order, as airlines and many states require health certificates for traveling pets. A certificate of veterinary inspection states your cat doesn't show any signs of disease. If you have experience traveling with your cat, and know she's not a happy traveler, discuss using a sedative with your vet.
Don't Leave Home Without Them
You don't leave the house without the basics: your identification, wallet and keys and your cat shouldn't either. At a minimum, she should wear an identification collar, with her name, your name and current phone number. As a back-up plan, consider getting her microchipped with the same information; microchipping is a safe, effective way to ensure your cat can be traced to you, collar or not. Keep a picture of your cat with you as well, just in case you get separated so you don't have to rely on your description or someone's interpretation of your description. And just as you pack your bags for your final destination, don't forget to pack your cat's kit-bag. She'll need her regular food, dishes, kitty litter and litter box and litter scoop -- at a minimum. It's nice to include favorite toys and a favorite blanket with some familiar scents to put her at ease -- and she may appreciate a bit of catnip as well.
Up in the Air
If you and puss are going to take to the skies, talk to the airline to learn if your cat must travel in the cargo hold. As well, discuss the airline's requirements for crating your precious cargo. At a minimum, her USDA-approved crate should be large enough for her to stand, sit, turn around and lay down in comfortably. It should state "Live Animal" on the top and sides and have arrows indicating the upright position, as well as your name, address and phone number, your cat's name and her destination. The carrier should be lined with towels or shredded paper to absorb any accidents she may experience and it should have a picture of your cat attached to it. Before you leave, freeze a dish of water for her crate; it won't spill during loading, but will thaw during travel to provide her something to drink. If the flight is especially long or has a layover, a small pouch of dried food attached to her crate will allow airline personnel to feed her. Finally, do your best to minimize your cat's time in the air. If you're able to fly direct and avoid long layovers and plane changes, it will minimize her stress. If you're flying with her, most airlines allow your cat in cabin in a carrier under the seat, for a fee, of course.
Before You Get in the Car
Traveling by car is a bit different. If you plan far enough in advance, you can try to get your cat used to the car. Start by putting her in her carrier in the car and taking her for a few short rides a week or so before you leave. In the meantime, map out your route. If it's a trip that takes longer than a day on the road, you'll want to make sure you pick cat-friendly lodging along the way. As well, the American Veterinary Medical Association maintains a list of emergency veterinarians throughout the U.S. Take a look at the list and identify any vets on your route.
Together on the Open Road
When you're traveling, take care to keep your stops on the road to a minimum; a car can get lethally hot in just a few minutes. If possible, feed your cat three to four hours before you start the drive, allowing time for her food to settle. Her carrier should be secure in the car, not in a spot where it will tip over or pitch forward in case of a sudden stop. All the better if you place it in a spot where she'll be able to see you. Finally, though your cat may like the idea of stretching her legs, don't allow her to roam in your car. She may get under your feet, causing an accident or she may escape; you don't want to spend your travels searching for your cat.