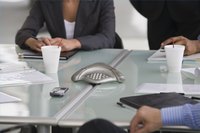 How to Join a Conference Call. At some point, you may be asked to participate in a conference call. Follow these steps to effectively function in the conversation.
Determine the time zone you are in. Make sure it corresponds to the time zone of the conference call. Check dateandtime.com if you are unsure.
Review the material you will discuss so that you don't waste anyone's time with questions already answered in the material. The conference call facilitator assumes you are familiar with the topic.
Prepare a list of questions before the call starts. You can keep your call shorter if you have any questions in front of you. Number the list so you don't lose track of your queries.
Have a pen and paper, tape recorder or computer in front of you so that you can take notes.
Listen to everyone else's questions. You might learn something new or you may have a question answered.
Call the conference call number at the designated time. Punch in the password and wait for the facilitator to start the call.
Mute the call by pressing "" 6 on your phone. This enables you to listen to the call without contributing background (noise) sounds. Press "" 6 again when you want to speak.