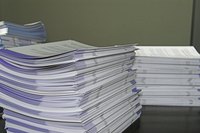 A community newsletter can help keep you connected to neighbors, make relevant information in your town readily available and promote local causes. The University of Kansas website suggests using the newsletter to educate readers on local issues and create a sense of common purpose. According to Entrepreneur.com, an e-newsletter can be easily operated from a home, as well as from an office.
Decide on the Medium
The newsletter could be printed or distributed via email. An e-newsletter would be a far more cost-effective option as you wouldn't need to account for printing and mailing costs. However, most e-newsletter platforms, such as iContact or Constant Contact, require a small monthly or yearly fee. There are advantages to print newsletters, however. According to SmallBusinessAdvocate.com, people receive about 10 times more emails per day than post mail. This could give your printed newsletter more attention and higher readership. For a print newsletter, you'll need a computer, page-layout software and a printer capable of handling 11-by-17-inch paper. Opting for an emailed newsletter or keeping a printed newsletter to four pages or less helps keep costs manageable.
Assign Tasks
As the newsletter grows, you may want to solicit help. Assigning tasks can help make the newsletter professional-looking. Inc.com suggests having dedicated writers and a sales staff, plus freelancers. For a small newsletter, you might enlist volunteers to contribute stories or photos or pay freelancers per piece. Entrepreneur.com lists start-up costs for a community newsletter in the $2,000 to $10,000 range.
Frequency and Distribution
Even if a newsletter isn't sent out frequently, such as weekly, its rotation should be consistent. Consistency helps encourage interest and can foster enthusiasm when a new issue is approaching. The University of Kansas website encourages not only selecting and sticking to a frequency, but also determining the size of the distribution. Distribution is especially important in print newsletters, as there is a cost associated with each printed piece. Doing drops of the newsletter, such as at grocery stores and the library, as opposed to direct mailing eliminates the postage costs. However, if you are selling advertising to help fund printing, it can make advertisers reluctant to participate since you don't have readership numbers. The number of subscribers is important to advertisers. Inc. says a typical e-newsletter might charge advertisers $25 to $50 per thousand subscribers for daily editions, and $100 to $250 for twice-a-month ads.
Promote Sign-Ups
With a community newsletter, word-of-mouth can be an effective tool for promoting sign-ups and increasing distribution. Leave stacks of print newsletters in public areas to encourage readership. For e-newsletters, leave sign-up sheets in public locations for interested residents to write down their email addresses. Encourage those receiving an e-newsletter to forward it to neighbors. For a mass mailing, the U.S. Postal Service offers an "Every Door" direct mail service that allows you to choose routes by ZIP code and pay for delivery to the addresses on the route. Some city and town websites also have master address lists you can access for free.