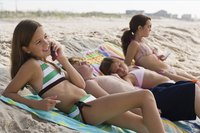 How to Sun Tan Safely. You can get that sun kissed look without damaging your skin. Follow these suggestions on how to sun tan safely.
Make sure you have all the sun block and lotions you need when going out in the sun or to the beach. Choose a 20+ sunblock for extra care and protection.
Try to avoid shaving before tanning. When you apply the sun tan lotion it might cause irritation or a rash on the skin.
Use self-tanning lotions if you want the tan but don't want sun damage. Self-tanning lotions can give you an overall body tan when applied correctly.
Wear sun tan protection whenever you can. Seasons such as winter can still have hot sun and you can get burnt.
Choose a time in the day when the sun is not too strong. Usually the hottest time of the day is between 12 p.m. and 4 p.m.. It is smart to go into the sun before or after this time to avoid sun damage.
Wear a hat or some other form of protection when you are going out into the sun. It will protect your head from getting overheated while tanning. Sometimes the sun can be so hot that it can give you headaches and make you dizzy.