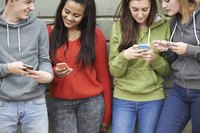 The most effective way to attract advertisers is to prove to businesses that their customers read your publication, visit your website, hear your broadcasts or see your signage, and that you reach these consumers more effectively than your competitors. To make this sale, you'll need to match your pitch to the right companies, which requires that you research their target audience and match it to yours.
Create a Profile of Your Audience
The first step in attracting advertisers is presenting your readership, visitors, listeners or viewers -- the people who will see advertiser messages. Whether you are selling advertising in a program book, signage at an event, ads in a publication or banners on a website, create a demographic profile of the person an advertiser will reach by working with you. Include as much detail about your audience as possible, such as age, sex, income level, marital status, whether or not they have children and geographic location. Once you have a detailed picture of your audience, you can use this profile to determine what products and services your audience purchases.
List Your Benefits
To effectively attract advertisers, you'll need to offer benefits they want. This means more than just getting their message in front of their customers -- they already have other ways to do that. Your benefits might include the frequency of your interaction with the advertiser's customers, the length of time that audience spends with you, the quality of their interaction with you, your cost of reaching them and the method of delivering the advertiser's message. For example, subscribers to a website or publication can be more valuable than random visitors or readers who pick up a magazine free, because these people have demonstrated an interest in you. You might be able to email messages to subscribers, and they are probably repeat visitors/readers. You might reduce advertising costs for your clients by offering free print design or broadcast production. If you offer new product reviews, include this in your sales pitch.
Evaluate Your Competition
Determine how you are better than your competition at delivering an advertiser's message. If possible, conduct surveys that ask readers, visitors, viewers or listeners how much time they spend with you and competing forms of media. Promote the responses that show audiences say they prefer you more than a specific type of media or direct competitor. Set your prices so that you are competitive with other advertising options in your market. If you must price your ads higher, demonstrate a higher-quality audience or one that's more engaged, to show higher value. An example of engagement might include website visitors who visit your site on a daily or weekly basis, seeing advertiser messages multiple times.
Target the Right Advertisers
Once you know the demographic profile of your audience and the benefits you can offer an advertiser, determine which companies sell to your audience. Ask your readers, viewers or listeners what products and services they buy to learn about their spending habits. Ask them what other media they use and review the advertisers on those media. This includes checking out your competition's advertisers. Knowing who wants to reach your specific audience can help you determine why an advertiser is interested in your reader or visitor, helping you craft a more targeted message.
Craft a Specific Message
Develop a three-part sales pitch to potential advertisers. Point out a need or opportunity they have, such as increased sales, a way to reach new customers, a cost-effective way to get in front of a specific type of customer or a way to make repeat impressions on an audience. Give advertisers a solution to their problem that focuses on using your general type of media -- such as radio, TV, print or websites. Finally, show how your publication, website, station or event is the most effective choice in that media space for businesses. Don't start your message by talking about yourself. Set up a scenario that lets you sell your unique and superior benefits after you have demonstrated that an advertiser needs these benefits. Create a media kit that provides potential advertisers with an overview of your company, a detailed breakdown of your audience, your circulation numbers or website traffic statistics, a description of your editorial, programming or event, customer testimonials and your prices. Include your cost to reach 1,000 people -- a standard media measurement advertisers use.