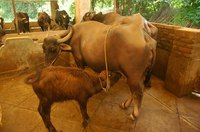 How to Breed Buffalo. Buffalo or bison breeders rarely use artificial insemination and cows usually deliver their calves on the range without any need for human intervention. So, when it comes to buffalo breeding, all you really need are a few guidelines and to let nature take its course.
Buy breeding stock from a reputable breeder. Make sure they are brucellosis and tuberculosis free and that the bulls have had their semen tested.
Buy one bull for every ten cows. The larger, more aggressive bull will dominate, but chances are good that others will sneak their genes into the pool as well. This will ensure the genetic diversity of your herd.
Expect your herd to breed sometime in June, during "rutting season," and for calves to be born the following April. Buffalo gestation is around 280 days.
Supplement pasture grass with hay or other high-protein feed during breeding season and for pregnant and lactating cows, if necessary.
Wean calves yourself in the fall if you want the cow to cycle again the following spring or if you want to sell the calf to a finisher. Otherwise, the cow can wean the calf herself.
Cull all but the best bull calves and heifers and repeat the process next season.