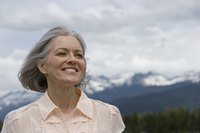 It can happen after a breakup, a job loss, an illness, a new endeavor -- everyone experiences a loss of self-confidence on occasion. But lost confidence doesn't have to be a permanent part of your identity. Gaining it back takes patience, practice and kindness toward yourself.
Start With Your Body
Respecting your body and feeling healthy naturally translates into your state of mind. If you've lost your confidence and don't know where to begin, take steps to improve your health. Quality sleep, decent hygiene, proper diet, sunlight, exercise and moderation in your choices all contribute to your body's optimal functioning. This is your machine -- keep it maintained. Caring for your body is a good place to begin when you feel knocked back mentally. Feeling healthy generates positive feelings about yourself, which is a cornerstone of confidence.
Practice Self-Compassion
The way you talk to yourself, or your "self-talk," influences the way you function in the world. To build back confidence, give yourself encouragement instead of criticism after a mistake. Self-compassion involves viewing your shortcomings both realistically and with kindness. Being compassionate toward yourself is much more effective at boosting motivation than harsh self-judgment, suggest researchers Juliana Breines and Serena Chen in their study "Self-Compassion Increases Self-Improvement Motivation," published in 2012 in the "Personality and Social Psychology Bulletin." For instance, if you've had a relationship end, don't dwell on where you may have failed. Instead, tell yourself you have the ability to heal, learn, move forward and find love again.
Teach Yourself to Relax
In sports psychology, a technique for improving performance involves relaxing your body and reprogramming your mind before a game. For example, if you were injured during a game and cannot seem to get back to the same success level, mentally go back through the experience that impacted you. Replace erroneous beliefs such as "I will get hit by the pitch" with realistic, encouraging ones, such as, "I am strong and prepared." Learn to relax your body when you are in the situation that caused your confidence loss. Deep breathing, experiencing the present moment and relaxing your muscles can teach your body to calm down, and your mind to focus.
Set Yourself Up for a Win
Competence in one area of your life can transfer into your overall self-image. If you engineer small wins for yourself, you remind yourself of your other strengths and abilities. When you're lost, for example, and figure out your way back, you remember what it feels like to succeed. Experience the feelings of competence that a small victory, such as finishing a puzzle or fixing a leaky faucet, provides. Even a small success, especially in unfamiliar territory, will help you to regain your sense of self-reliance and foster new confidence.