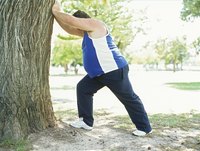 How to Create an Exercise Program After Gastric Bypass Surgery. Exercise is an important part of a successful gastric bypass surgery. Done properly and under supervision, exercise speeds healing and recovery. Getting started on any post surgical exercise program is difficult. It may be even more difficult for people who were unaccustomed or unable to exercise previously due to excessive weight. If you create an exercise program based on your likes and dislikes and work at it a little each day, you will be more likely to stick with it over the long haul. Read on to learn how to create an exercise program after gastric bypass surgery.
Discuss all exercises, from the first day of stretching onward, with your doctor. You will want to exercise as soon as possible, but don't rush into against your doctor's advice.
Acknowledge that lack of exercise may have contributed to your weight problem.
Commit to making a daily exercise program part of your lifestyle after gastric bypass surgery.
Start slowly. With your doctor's consent, try a few light stretches in bed the morning after your surgery.
Begin to exercise as soon as possible. Barring complications, you should be up and taking a few steps the day after your surgery.
Walk, walk, walk during the initial recovery period. Walk several times a day, even if you can only last for two or three minutes. Until your doctor gives the OK, walk on flat even surfaces, not grades.
Avoid abdominal exercises until they have been approved by your doctor--usually at least four to six weeks after surgery.
Burn fat, not muscle. Your body will be getting fewer calories after your surgery. To replace the lost energy, a sedentary body may burn muscle rather than fat. Exercise will burn fat.
Create a multi-front plan that keeps you interested and provides comprehensive exercise, including cardiovascular, aerobic, flexibility and endurance portions.
Lift weights after your doctor has informed you that your wounds are sufficiently healed. Gastric bypass patients are at greater risk for osteoporosis. Weight bearing exercise is a great way to battle bone loss.
Enroll in a water aerobics class after your doctor has released you to be in water. Swimming really works the abdominal muscles, so delay actually doing that until you have received the go ahead from your physician.