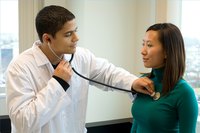 How to Recognize the Symptoms of Hashimoto's Disease. Hashimoto's disease, sometimes known as Hashimoto's thyroiditis, is an autoimmune disease that causes inflammation of the thyroid gland, making it unable to produce the hormones the body needs. Eventually, antibodies attack and deteriorate the thyroid. Hashimoto's disease results in hypothyroidism, but the disease itself does not have symptoms that are easy to recognize.
Things You'll Need
Recognize Symptoms of Hashimoto's Disease
Know that Hashimoto's disease often causes no visible signs or symptoms. As such, the first symptoms you experience may be related to hypothyroidism. Hypothyroidism is marked by an underactive thyroid gland.
Realize that the symptoms of Hashimoto's disease and hypothyroidism are often masked by the effects of getting older. Fatigue, weakness, sluggishness and weight gain are often attributed to getting older rather than a serious condition.
Keep an eye out for a goiter, which is an enlarged thyroid gland. A goiter is usually visible when Hashimoto's disease or another thyroid condition had advanced without treatment.
Look for a feeling of fullness or tightness in the throat. You may also experience difficulty swallowing food and liquid as Hashimoto's disease advances.
Have annual physicals and discuss any new abnormalities with your doctor, no matter how mundane they may seem.
Recognize that Hashimoto's disease begins slowly, with symptoms manifesting over a period of several years, if at all.
Learn the Symptoms of Hypothyroidism
Look at your skin, which often becomes pale and dry with a hypothyroid condition.
Notice irregular menstrual periods, especially if they are frequent or prolonged. Periods may also be particularly heavy.
Realize that depression may have an underlying medical cause, including hypothyroidism and Hashimoto's disease. Be sure to speak to your medical doctor if you are feeling depressed.
Be on the lookout for weight gain, usually between 10 to 20 lbs, that comes on quickly. It is often attributed to other factors, but when coupled with other symptoms, can be a sign of hypothyroidism.