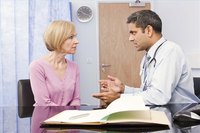 How to Diagnose Lupus. The autoimmune disease lupus can be very difficult to diagnose. There is no set of symptoms that is found in every lupus patient, and no single laboratory test can confirm the presence of the disease conclusively yet. A qualified doctor can diagnose lupus only by carefully reviewing your own medical history and performing a variety of tests. Read on to learn how to diagnose lupus.
See if you are having any skin problems. Lupus can create rashes on your skin that come and go for no apparent reason.
Have a urine analysis done to look for signs of kidney infection or other problems. Lupus patients often have some symptoms that are commonly associated with kidney disease.
Check for joint pain and swelling. Lupus often causes flare-ups of swelling, typically in the ankles, wrists and elbows. Your swelling may come and go with no obvious cause.
Have your doctor conduct a blood analysis. If you have lupus, your results will indicate a low red blood cell count and other indicators of anemia.
Note any strange muscle and nervous system sensations that you have, including spasms, lack of control and convulsions.
Check the Lupus Foundation for other symptoms you might be experiencing as well as for advice on how to proceed with treatment. See the Resources section below for a link.
Talk to your doctor about any of these symptoms. You will need to provide your doctor with a detailed medical history so that he can look for patterns, like random unexplained swellings. You will probably have to have extensive blood testing and maybe tissue samples taken before your doctor can reach any conclusions.