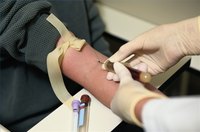 How to Test for Kidney Disease. Kidney disease is often called a "silent killer" because you can have it without noticing any symptoms. Doctors often find the condition through routine testing. It is easy to test for kidney disease if you are experiencing the symptoms of the condition. Read on to learn how to test for kidney disease.
Check your blood pressure. Having high blood pressure can lead to kidney disease or indicate existing kidney problems. The doctor will read your blood pressure with a pressurized arm cuff. The reading is expressed in two numbers. A blood pressure of 120 over 80 is considered normal and doctors recommend that anyone with kidney disease keep his blood pressure under 130 over 90.
Have a urine test done. Healthy kidneys leave proteins in your blood but if you have kidney disease there might be traces of a protein called albumin in your urine. You will usually have to have two urine tests done. The tests are taken one to two weeks apart and are an accurate way to test for kidney disease.
See if there is waste in your blood. A Glomerular Filtration Rate test will measure the level of waste is in your blood. The test looks specifically for the waste product creatine. This test will show if you have reduced kidney functions.
Take a Blood Urea Nitrogen test. This test requires only a small blood sample and will tell you how well your kidneys are functioning.
Look at ultrasound images of your kidneys. Occasionally the previous tests will appear to be normal and a complete image of your kidney will be needed. These images will show if you have growths on your kidneys or a blockage in your urine track.