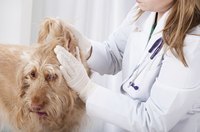 A canine aural hematoma, sometimes called a blood blister, occurs when a blood vessel in the ear bursts and leaks blood into a pocket between the skin and cartilage. This potentially painful condition requires veterinary attention to correct.
Ear Hematoma Description
An ear hematoma appears underneath the earflap on your canine companion. When you lift the earflap, you will see a swollen area, firm to the touch, containing blood between layers of tissue. Your dog will likely wince when you feel it to determine what it is.
Causes and Symptoms
A dog with a foreign object in his ear, such as a blade of grass or a tick, will paw at his ear and shake his head to try to remove the object. An ear infection will cause the same reaction from your pet. The head shaking, ear flapping and pawing at the ear can cause a hematoma. A dog with an ear hematoma may walk with his head tilted to one side, exhibit fierce head shaking or paw at his ear -- the added weight of the blood in the hematoma becomes uncomfortable to your pet.
Veterinary Intervention
If you believe your dog has an ear hematoma, he needs a trip to see your veterinarian for treatment. A canine ear hematoma will not correct itself and can lead to permanent disfigurement. Your veterinarian will examine the earflap and likely take a sample from inside the ear canal to test for ear mites or an ear infection. The underlying cause must be treated as well as the hematoma to prevent it from refilling with blood. The hematoma will need draining, and your pet may leave with stitches, a surgical drain in his ear, and bandages.
Ear Hematoma Aftercare
Your veterinarian will instruct you when to return to the office to have te bandages, stitches and the surgical drain removed. The vet will check your furry friend's ear canal again to ensure that his infection or mites have cleared up and will not cause another hematoma.