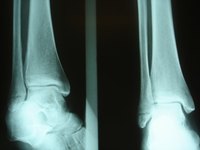 How to Tell the Difference Between an Ankle Sprain and a Break. Ankle sprains and breaks are often confused by the untrained person. A break is an actual fracture of one of the bones in the ankle. Generally the small outside bone, called the fibula, is the one that breaks. An ankle sprain is an actual tear of one of the 6 ligaments in the ankle. Here's how to tell them apart.
Ask the injured person how they obtained their injury. A cracking noise could signal a break, whereas a tear or pop noise is associated with a sprain.
Look at the joint. Note if the area appears crooked or lumpy, in addition to the swelling. If the joint looks crooked or lumpy, the bone may be broken.
Inquire if there is any numbness in the ankle area, as numbness can be indicative of a break.
Determine the severity of pain the person is experiencing. Severe pain is associated with a break, while a slighter amount of pain--better described as discomfort--is associated with a sprain.
Try to have the person move the joint. If it moves painfully, then it is most likely a sprain; if they cannot move it at all, it is almost surely broken.
Apply weight to the joint. If you cannot apply any weight, the ankle if probably broken. If weight can be applied but it is painful, the ankle is probably only sprained.
Have the ankle seen by a doctor, who will perform an x-ray to verify that you do not have a fracture in any bones in the foot.