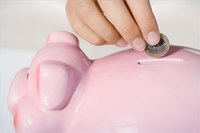 How to Save Money at Home. The average American should save about 10 percent of their annual income whether they are wealthy or on a fixed lower income. Saving money is easy if there is a lot of excess to save, yet there are a number of ways to save money at home without a lot of effort. Follow these simple money saving tips and stash away a nice nest egg by the end of the year.
Conserve water use by doing full loads of laundry only, running a full dishwasher, and replacing the toilet with a low volume flush model. These techniques are sure to lower the water and sewer bills.
Use common cleansers throughout the house like lemon juice, bleach and borax instead of expensive perfumed cleaning materials.
Tear the dryer sheets into thirds and use a third at a time. The clothes come out the same and a box of dryer sheets lasts for months.
Hang laundry to dry outside during summer months and on racks indoors during the winter. Less dryer use cuts down on the electric or gas bills.
Plan and consolidate any driving needs to save on daily gasoline consumption. Run several errands at once and use a bicycle or walk if possible.
Cancel the gym membership and go outside for free to run, walk, bicycle, mow the lawn or any other summer sport. Shovel snow, ski, and snowshoe or ice-skate to stay in shape.
Use a goat or push a hand mower to mow the lawn. Neither uses any gas and one fertilizes the lawn.
Practice the "RE" statements to save money at home: recycle, reuse, repair and refurbish.
Buy used instead of new wherever possible.
Shop for good quality used clothing and other household items at shops like Goodwill or Salvation Army. New as well as used items are available at these locations.
Buy sale items only and shop the papers for sales. Purchase only those items that are necessary, not just because they are on sale.
Make wrapping paper instead of purchasing expensive papers that eventually ends up in the trash anyway. Use decorated paper bags, the Sunday newspaper or recycled paper from the office.
Pack a lunch and do not eat out during the workweek. Take coffee in a carry mug from home to work and avoid the mocha latte to go from the gas station.
Replace old appliances with up-to-date, more energy efficient models. This will save money on utility bills.
Shop for bargains on used goods at flea markets, consignment shops, auctions and garage sales.
Carpool to work to save money on gas and car maintenance.