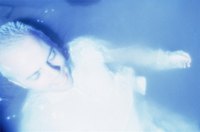 How to Revive a Drowning Victim. Drowning is one of the leading causes of death and considered to be one of the most horrific ways to die. Unfortunately, many people are unsure of how to revive a drowning victim. If a person has been pulled out of the water, it is essential that something be done immediately to save their life.
Keep the person still after they have been pulled out of the water. Any type of movement can possibly cause additional injuries.
Seek out help immediately. Dial 911 or send out someone to dispatch an ambulance to the scene of the drowning.
Begin mouth to mouth resuscitation if the drowning victim is not breathing on his own. Quickly sweep his mouth to remove any foreign objects and then place his head tilted upwards. Breathe every few seconds through his mouth while holding his nose shut.
Continue breathing for him until he is able to breathe on his own. If vomiting occurs, clear the mouth and continue the mouth to mouth resuscitation.
Check the victim for a pulse. Place your fingers on the drowning victim's neck and feel for a pulse. If there is none, you will have to begin CPR.
Allow the emergency personnel to take over once they arrive. They will be able to perform additional medical procedures on the victim as well as provide him with oxygen.