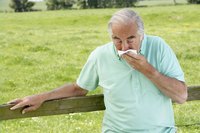 How to Prevent TB. Tuberculosis is a very contagious disease. It's estimated that 1/3 of the world's population carries the bacteria that causes TB. It is an airborne disease that is passed from person to person when the sufferer coughs, speaks or sneezes. With some care, you can prevent getting active tuberculosis.
Avoid spending long periods of time in enclosed spaces with individuals who have active tuberculosis or who have just begun treatment. Someone who has been undergoing treatment for several weeks should no longer be contagious.
Seek employment that does not put you into direct contact with those who may be suffering from tuberculosis. Health care settings, jails and homeless shelters are some locations that you would want to avoid working in.
Use face masks, especially if you work with tuberculosis sufferers or come into contact with one regularly.
Live, work and visit locations with good ventilation. The NAIAD states that one of the best ways to prevent TB is adequate ventilation.
Vaccinate children in high TB areas. The BCG vaccine is used in some countries to help protect individuals against active tuberculosis.
Have active tuberculosis sufferers follow the appropriate treatment as prescribed by their doctor. Without treatment, the bacteria can be passed on to those around the ill person.
Get tested yourself to find out whether you have contracted tuberculosis, and seek appropriate treatment if you do or if you've come into contact with someone with active TB.