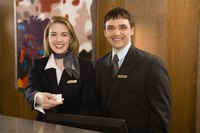 How to Use a Database for Hotel Accounts. Regardless of all kinds of proprietary hospitality software being sold, there is still a choice to be made about how to manage hotel accounts and what kind of database you should use. The type of hotel, hotel chain size and budget are factors in deciding how to warehouse customer information.
Things You'll Need
Database software (MS Access or proprietary)
Workstations
Analyze the needs of the particular hotel. Security might be a concern, as well as the amount of information needed to serve customers. High-end businesses can use detailed information in a database to foresee and provide for the needs of an individual client.
Include the general tables for first and last name, address and phone, and stored credit card numbers. Include anything that will help project how a client uses the hotel, from car information to limited mobility.
Add linkable tables for stay history. Stay history tables should be set up so that they can be queried to run reports on when rooms will be filled and when there will be many vacancies.
Keep contact info current. Have the contacts show up as a courtesy on front desk check-ins to make sure you can reach a customer if necessary.
Put together a linked daily account roster that front desk staff can use to record cash and credit amounts received and rooms filled, for a current day/night. These reports are indispensable to a night audit.