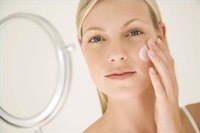 How to Get Rid of Wrinkles. While wrinkles can be a sign of maturity and wisdom, they are generally looked upon as a sign of old age and loss of beauty. The best way to get rid of wrinkles on the face is to avoid getting them. It is possible to undo some of the effects that time and elements take on skin. Some time, patience and work will help to reduce wrinkles.
Things You'll Need
Anti-oxidant cream
Alpha-hydroxy cream
Vitamin A cream
Skilled physician
Apply a cream containing Vitamin A (Tretinoin) daily. Be prepared for redness and puffiness in the beginning. This is part of the process and will eventually go away.
Use an Alpha-Hydroxy product daily. Do not expect dramatic or immediate results. Results are minimal and do take some time.
Apply anti-oxidant creams. Apply these creams on a daily basis. Be sure that the cream contains more than one anti-oxidant. Vitamins A, C, E, beta-carotene and lycopene are all examples of anti-oxidants.
Have a dermatologist perform a chemical peel on your face. Be prepared for severe discomfort and temporary unfavorable changes to the skin.
Refinish your skin with dermabrasion. Have a certified technician perform the dermabrasion. Follow through with multiple dermabrasion appointments for greatest results.
Have a dermatologist or plastic surgeon perform laser-resurfacing. Choose this option to target facial lines around the eyes and mouth. Discuss all side affects with the physician.
Have a Botox treatment. Choose an experienced physician for this treatment. Discuss any previous performed skin procedures with the physician.