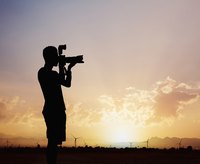 Turning your photography hobby into a career requires skills, commitment and an understanding of the business of photography. You need to develop your skills to a professional level, identify markets where you feel you can succeed, find customers and obtain the licenses and permits you need to operate a business.
Develop Your Skills
You may already be capable of occasionally taking a great shot, but if you want to make a career of photography you must be able to consistently produce superior work. Take a course at a local college or art school. You can obtain industry accreditation by taking the Certified Professional Photographer Program run by Professional Photographers of America. Completion of the program assures clients that you are a quality photographer.
Acquire Reliable Equipment
When clients are paying for your services, you must have reliable equipment that enables you to produce quality results. An editor or an advertising agency's creative director may ask you to achieve a specific effect, and a wedding commission gives you just one chance to get the shots. If necessary, upgrade to a professional camera body and a set of lenses that will cover a wide range of shooting situations. You can hire special equipment for specific shoots if you don't have the budget to purchase. Familiarize yourself with the full range of facilities available from photo-editing software programs.
Identify Your Market
Photography opens a wide range of opportunities to earn income, but it's important to concentrate initially on markets that reflect your experience and interests. If you have an interest in people, you could work in portrait or wedding photography, fashion or sports photography. You may prefer photographing objects. That gives you an opportunity to take product shots for advertising agencies and marketing companies, for example, or architectural shots for magazines. If you have a science background, medical or scientific photography may be suitable. Photographers who enjoy travel can make a career of landscape, travel or wildlife photography.
Market Your Services
To earn income, you must contact people who buy photography, such as editors of newspapers, magazines and photo libraries, graphic designers and creative directors of agencies that commission shots for advertisements. If you offer portrait or wedding photography, deal direct with clients or contact hotels and event organizers asking them to recommend your services. To promote your services, put together a portfolio of your work in a folder or on your website. Contact prospects to arrange a meeting and show your portfolio or email them with a link to your online portfolio.
Obtain Licenses and Permits
When you turn professional, you take responsibility for running your own business. Register your business and obtain a state or local business license. The U.S. Small Business Administration provides advice to help you find the licenses and permits you need. You also may require a sales tax license if you plan to sell copies of your photos.