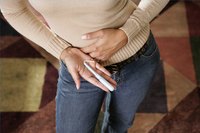 How to Use a Tampon. Tampon or pad? The age-old question many young ladies ask themselves as they approach puberty. Many girls avoid using tampons because they don't know how to use them and are embarrassed to ask anyone the specific details. While making the choice to use a tampon or a feminine pad are based on many reasons, not knowing how to use a tampon should not be the deciding factor.
Purchase the correct type of tampons. Tampons come with plastic or cardboard applicators, but the plastic applicators are easier to insert. Tampons also come in different absorbency levels and you should use the super tampons only when your flow is at its heaviest.
Wash your hands before inserting the tampon. You should also wash your hands after insertion.
Stand with your legs slightly parted and your knees bent. You may raise a leg onto the toilet seat or even sit on the toilet seat if it is more comfortable.
Hold the tampon with your fingers in the middle of the applicator and the tampon string pointing away from your body. Usually there are ridges on the applicator to indicate where to place your fingers, but they should be touching the area of the applicator where the smaller tube slides into the bigger tube.
Position the tampon at the entrance to your vagina. You may need to pull back the folds of the labia.
Gently push the tampon applicator into your vagina until your fingers touch your body and the outer tube is completely inside your vagina. Inserting the tampon is the hardest part and it may take several tries to get it inside your vagina. Try to relax; tense muscles will keep you from being able to insert the tampon. Also, do not aim straight upward, rather angle the tampon toward the back of your body.
Push the inner part of the applicator tube into the outer part, pushing the actual tampon inside your vagina. If the tampon feels uncomfortable, you may not have inserted it all the way into your vagina and you will need to remove it and try again with a new tampon.
Pull the applicator out of your vagina, making sure the tampon string is hanging outside the vagina. The string will be used to remove the tampon.