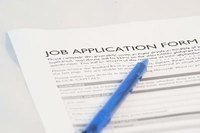 How to Screen Resumes. Your human resources department probably receives many resumes for each job vacancy advertised. Follow these steps to teach your staff how to screen resumes more effectively and identify the most appropriate candidates for each position.
Things You'll Need
Desk space for sorting resumes
Review the educational background of a particular candidate to determine his level of expertise. For technical and specialized positions, education should include certifications and advanced degrees to ensure competence. Liberal arts degrees should be accompanied by a strong grade point average (GPA) or other indicator of academic performance.
Determine the level of consistent employment by a candidate through her resume. As you screen resumes, make note of candidates with large gaps in their employment history. Candidates who have moved from job to job or gone without working for several months may not be strong applicants for your company.
Weigh a long list of part-time or temporary positions with the educational endeavors of a candidate. Applicants who utilize part-time jobs on their resumes may need to use these as professional references, because college attendance has left them with little time for job experience.
Establish the necessity for professional associations and publishing when you screen resumes. In entry-level positions, affiliation with a professional organization or a list of publications may be the difference between hiring a candidate among several similar applicants. For positions that require experienced professionals, this information may mean the difference between an interview and a rejection letter.
Simplify the resume screening process by utilizing resume parsing software. Resume parsing programs allow you to put keywords into the software and search all applicable resumes. Software companies like Recruiting Solutions provide these programs to help you eliminate excessive resume reading (see Resources below).
Separate resumes into several piles on a large desk or table for easy organization. A standard approach is to create three stacks: one for candidates who should be contacted for interviews, one for candidates on the fence and a third for applicants lacking in a certain qualification. (Think of these three stacks as Yes, No and Maybe.) Your staff can proceed with the interview process by quickly working through these stacks.