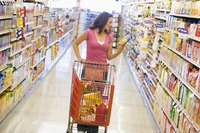 Food labels can be a great source of information or a confusing collection of health claims that may appear misleading. The U.S. Food and Drug Administration, or FDA, has strict guidelines that manufacturers must follow. Knowing what to look for and where to find key information on a food label can help you choose healthier foods that may help you achieve healthy cholesterol levels.
Total Fats Section
The fats section of a label is divided into saturated fats and trans fats, both of which may raise your LDL, or bad, cholesterol. The label tells you how many grams are in each serving. Check the serving size listed on the label and make sure you are eating the same amount the manufacturer considers one serving. The National Heart Lung and Blood Institute published a report in the Journal of the American College of Cardiology in July 2014 stating that reducing your intake of saturated fats to 5 percent to 6 percent of your total calories, or 11 to 13 grams daily if you consume 2,000 calories, improves cholesterol levels. Reducing trans fats as much as possible also lowers cholesterol.
Unsaturated Fats
Some labels list unsaturated fats, which are broken down into monounsaturated and polyunsaturated fats, the healthier fats. The NHLBI report found that people who replaced saturated or trans fats with healthier unsaturated fats lowered their LDL and improved their HDL, the good cholesterol. Those who ate approximately 25 percent of their calories from fats, or 55 grams daily on a 2,000 calorie diet, had healthier cholesterol levels. By reading the labels on your favorite foods you can easily keep track of the amount of fats you are eating throughout the day. Follow these recommendations to keep your cholesterol at a healthy level.
Cholesterol Section
The 2010 Dietary Guidelines for Americans recommends limiting your cholesterol intake to less than 300 milligrams daily. Nutrition Facts Labels must list the cholesterol content. You find cholesterol in animal products such as meats and dairy. Choosing low-fat dairy products, lean meats, fish and poultry as well as eating more fruits, vegetables and whole-grains as encouraged by the American Heart Association, should reduce your cholesterol intake.
Low-Cholesterol Claims
The FDA has strict guidelines regarding claims that manufacturers use on labels. "Cholesterol-free" means a food contains less than 2 milligrams of cholesterol per serving and it doesn't contain any ingredients with cholesterol. "Low-cholesterol" is defined as less than 20 milligrams per serving and "reduced- or less-cholesterol" means a food contains 25 percent less than its regular version. Choosing "cholesterol-free" or "low-cholesterol" foods may help lower your cholesterol, but use caution when choosing foods that claim to have reduced or less cholesterol. If the original food was high in cholesterol, chances are the lower cholesterol version still contains more than you should eat.