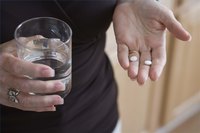 How to Treat Altitude Sickness With Medication. While the only outright cure for altitude sickness is either to become acclimatized to the high altitude or descend to lower ground, it is possible to treat the condition with medication. Your physician can explain the merits and drawbacks of many preventative and symptom-relieving altitude sickness treatments.
Use Medications to Prevent Altitude Sickness
Ask your doctor about acetazolamide, often marketed under the brand name Diamox. It gives your blood a slight degree of acidity, which helps it transport oxygen more efficiently throughout your body. This counteracts the effects of altitude sickness, which are caused by a short supply of oxygen in the bloodstream due to the lowered air pressure.
Learn more about dexamethasone if you are facing an excursion high into the mountains. This steroid decreases brain swelling and can reverse the physical effects of altitude sickness. It is taken for several days before an ascent begins, but be warned. It is a powerful medicine intended for selective use. Be sure to thoroughly discuss it with your doctor.
Remain hydrated, and ascend slowly and with caution. Natural means of prevention are still the most effective and trustworthy.
Use Medications to Treat Altitude Sickness
Treat minor headaches and bodily maladies with ibuprofen. It is widely considered the most effective over-the-counter painkiller in the treatment of altitude sickness.
Improve your oxygen draw by using acetazolamide, a prescription medicine which helps you breathe faster. In turn, this helps you metabolize more oxygen into the bloodstream and counter the effects of altitude sickness or prevent them altogether. This drug is useful when spending the night at high altitudes, since your respiration naturally slows down during sleep.
Learn more about nifedipine. Normally used to treat high blood pressure, nifedipine can be of use to mountaineers because it opens up the pulmonary arteries. Since they normally constrict in low-oxygen situations, nifedipine can aid breathing at high altitudes.
Know that a drug called frusemide can be used to treat extreme cases of pulmonary swelling. However, swollen lungs indicate a serious case of altitude sickness that will require the immediate attention of a doctor.