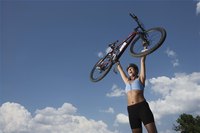 How to Naturally Cure Altitude Sickness. If the condition is properly managed in a timely manner, you can easily cure the symptoms of altitude sickness naturally. Common sense preventative measures can also be taken to prevent it from occurring in the first place.
Things You'll Need
Prevent Altitude Sickness
Understand that altitude sickness is caused by decreased air pressure. When people breathe under such conditions, they inhale less oxygen. Without its usual oxygen supply, the body's normal functioning suffers.
Prevent altitude sickness by remaining at heights below 8,000 feet (or about 2,400 meters). People in good health are not generally affected until climbing above the 8,000-foot mark.
Sleep at an altitude at least 500 feet, but preferably at least 1,000 feet, lower than the highest altitude you became acclimatized to during your day of climbing or mountain activity. Altitude sickness frequently becomes active at night, when the decreased oxygen intake can lead to insomnia.
Practice smart climbing. Ascend slowly, allowing yourself ample time to get acclimatized to your new altitude. Do not proceed upward if you experience any symptoms of altitude sickness.
Cure Altitude Sickness Naturally
Rest. This should be the immediate treatment for mild symptoms of altitude sickness, such as minor headache or fatigue. These are signs you need to acclimatize. Once you do so, minor symptoms may abate.
Double your normal water intake and eat a carbohydrate-rich diet. Reaching high altitudes can result in dehydration, and carbohydrates help your body transport oxygen through your bloodstream. Limit your fat and salt, because these impede your already compromised ability to supply your body with proper amounts of oxygen.
Head for lower ground if your symptoms do not clear up. Wait on lower ground you are already acclimatized to for your symptoms to begin to abate. If they do not, keep going lower until they do. Remember, there are only two ways to fully cure altitude sickness: acclimatization or descent. You will have to get to a height where your body is capable of receiving enough oxygen in your bloodstream.
Abort your climb and get to lower ground as quickly as possible in the event of a more severe case of altitude sickness.