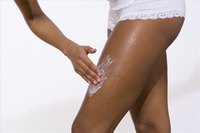 How to Prevent Scabies. Scabies are small parasites--mites so small they are invisible to the naked eye--that burrow under the skin and cause pimple-like wounds, burrows where the female mites lay eggs and intense itching, especially at night. Although scabies are not dangerous, scratching the pimples can cause small skin tears and lead to a bacterial infection which might be dangerous if left untreated. Scabies affect people of all ages and economic groups. Like most parasitic diseases, it is easier to prevent than to treat.
Things You'll Need
Family doctor or dermatologist
Washer and dryer
Prescription topical cream to kill mites
Prevent Scabies
Avoid prolonged contact, such as sexual intercourse or intense cuddling with anyone who exhibits symptoms of scabies. A handshake or a quick hug is fine, but longer contact is likely to lead to you becoming infested.
Avoid even brief contact with people who have "Norwegian" or "crusted" scabies.
Prevent your family members from sharing dirty towels, unwashed clothes, and unwashed bedding. This can prevent the transmission of several contagious skin diseases, including scabies.
Treat everyone in the household at the same time if one person becomes infested. Your doctor will prescribe a cream or lotion that should be applied everywhere from the neck to the toes. This cream is left on overnight and washed off in the morning. Treatment is repeated in 7 to 10 days to kill any mites that may have hatched.
Wash all clothes, bedclothes, towels and wash cloths in hot water and dry them on the "hot" setting immediately after everyone in the household has taken the first treatment. Scabies can live for a short period of time off the human body, but the heat from the washing and drying will kill them and any eggs they may have laid.
Return to the doctor immediately if the infected person's condition does not improve within 1 or 2 weeks after the second treatment, or if more members of the family become infested with scabies.