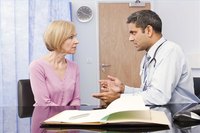 How to Diagnose Rheumatoid Arthritis. Rheumatoid arthritis is not always easy to diagnose. In fact, because it shares the same symptoms as a variety of other diseases, it is easily misdiagnosed. This is especially true in the case of children with rheumatoid arthritis. Many tests are necessary but with competent medical guidance it is possible to accurately diagnose rheumatoid arthritis.
Learn How to Diagnose Rheumatoid Arthritis
Examine your joints. If they are swollen, misshapen, tender and hot to the touch, these are signs that rheumatoid arthritis may be present. They may also appear red due to inflammation.
Take your temperature. Early symptoms of rheumatoid arthritis include a persistent low-grade fever. This fever can keep recurring for many months and may be accompanied by flu-like symptoms. The fever will usually not go above 101 degrees F and is typically worse in the evenings.
Pay attention to which joints are affected. Rheumatoid arthritis usually affects the same joints on both sides of the body. If, for example, your left ankle is affected, your right one will probably be, as well. While this is not always the case, it is the norm.
Get a sedimentation rate test. This blood test measures inflammation in the body. Your red blood cells are monitored in a test tube for an hour in this test. The faster the red blood cells fall to the bottom of the test tube, the greater the level of inflammation that is present. People with rheumatoid arthritis typically have high sedimentation rates when the disease is active.
Be tested for the rheumatoid factor. The rheumatoid factor is an antibody that is usually only present in people with rheumatoid arthritis. However, since 20 percent of people with rheumatoid arthritis test negative for rheumatoid factor, you will need other tests to confirm a rheumatoid arthritis diagnosis.