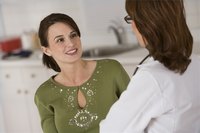 How to Recognize the Symptoms of Ringworm. Ringworm is a highly contagious fungal skin infection characterized by blister-like patches surrounded by red rings. It is common in warm, humid environments, and the fungus can be picked up through direct skin contact with infected individuals, as well as the sharing of personal items and contact with cats and dogs.
Recognize the Symptoms of Ringworm
Know that ringworm on the body mainly affects the torso, legs, arms, neck and face. It differs from ringworm found on the scalp, groin (also known as "jock itch"), hands and feet (also known as "athlete's foot"). Recognize symptoms more easily and learn how to tell them apart by visiting WebMD (see Resources below).
Look for red, elevated, blister-like patches or sores that may be clear in the center and red at the edges. The sores may be crusty or scaly and will be about 2 inches across, occurring in small clusters.
Know that ringworm rashes are itchy, and the blisters may leak if scratched.
Recognize ringworm symptoms within 4 to 10 days of contact for ringworm of the body. Symptoms may take a few days longer to appear for different types of ringworm, such as ringworm of the scalp.
Consult a physician as soon as ringworm symptoms appear to avoid infection.
Be Aware of the Complications of Ringworm
Follow your doctor's instructions and complete cycles of medication. Without proper treatment, fingernails and toenails can become thick, discolored or crumbly.
Know that ringworm can spread not only to other people, but to other areas of your own body.
Be aware that ringworm of the scalp can cause bald patches, because infected hairs will become brittle and can break off.
Take special precautions if you have a weakened immune system. Ringworm can be especially difficult to eradicate for individuals fighting other diseases.