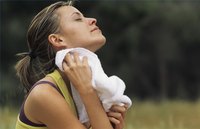 How to Recognize the Symptoms of Heat Rash. Heat rash is characterized by clusters of small red dots or pimples and itchy or prickly skin. It's also known as "prickly heat" or "miliaria" and is very common in babies and children, but adults get it, too. Symptoms are easy to recognize and usually clear up within a few days.
Recognize Heat Rash Symptoms
Look for small red bumps or pimples in folds of skin or areas that may have been covered by tight clothing or hats. The skin may be red, as well. Heat rash appears anywhere sweat glands may have been blocked. The most common areas are the neck, shoulders, torso, armpits, groin and the backs of the knees and elbows.
Recognize how heat rash feels. The skin will feel prickly or itchy and may burn or sting.
Find heat rash symptoms most commonly in children and babies who are dressed too warmly, but also in individuals who are bedridden, active adults and babies in incubators. View pictures of heat rash in babies at WebMD (see Resources below).
Know when to call a doctor. Look for redness or swelling as a sign of infection. The affected area may be hot to the touch. You may have a fever or swollen lymph nodes.
Prevent Heat Rash
Don't overdress and stay away from synthetic fabrics in hot, humid weather or when exercising. Wear clothes that are lightweight and loose, as well as clothes that are made of a natural fiber, such as cotton, or material that pulls sweat away from the skin, such as polypropylene.
Sprinkle cornstarch or talcum powder on your skin when you're getting dressed to keep skin dry.
Turn on an air conditioner or fan before you go to sleep in hot weather.
Know that obesity can cause heat rash. Heavier bodies tend to generate more body heat and accumulate more folds in the skin.
Take cool baths or showers frequently in hot weather.
Drink plenty of water and stay hydrated.
Avoid using oil-based moisturizers or ointments that can block pores.