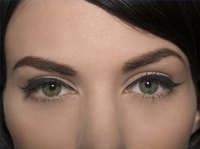 How to Recognize the Symptoms of Bell's Palsy. Sir Charles Bell, the 19th century Scottish anatomist and surgeon, was the first to recognize and document the relationship between the seventh cranial nerve and the muscles that control facial expression. When this nerve is inflamed and compressed, temporary paralysis of one side of the face, or Bell's palsy, results. Diabetics are more prone to Bell's palsy, as are women in the third trimester of pregnancy and people with immune-suppressing conditions such as HIV. Exposure to certain viruses and bacteria, such as Herpes simplex, which causes cold sores, or viral meningitis, has also been associated with Bell's palsy.
Recognize These Symptoms
Be aware that Bell's palsy is characterized by sudden onset. People often wake up to find one side of their faces drooping. Early warning symptoms sometimes include pain in the ear or neck, one dry eye or a tingling around the lips the day before, but these signs are often missed or ignored.
Check your face in the mirror to confirm that one side is affected. With Bell's palsy, the nerve signals controlling facial expression, tear and saliva production and taste are interrupted. The disorder causes unilateral symptoms, which means they affect only one side of the face. This side of the face will droop and may feel weak and look distorted. You may also experience twitching or spasms.
Be reassured that Bell's palsy does not affect your vision, but one eye will be dry and difficult or impossible to close. It may also tear excessively.
Confirm that you can still move your tongue. The nerve damaged by Bell's palsy controls saliva production in part of your mouth, so your mouth may feel cottony and dry. Your sense of taste may also be affected, but Bell's palsy does not impact your ability to move your tongue.
Note any discomfort you feel. Although there is usually no discomfort with Bell's palsy, some sufferers experience pain behind the ear or in the neck.