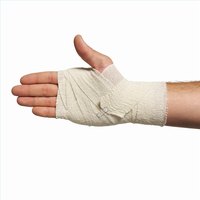 How to Use a Compression Wrap. Compression is one of the four steps of the PRICE (protection, rest, ice, compression and elevation) formula, which is the most common form of treatment for muscle strains and tears. Compression involves wrapping the injured area with an elastic bandage to offer support and enhance the healing process.
Use a Compression Wrap
Choose an elastic bandage to make your compression wrap. Make sure the skin underneath the bandage is dry, clean and free of drainage. Apply the bandage by starting at the far end of the limb and gently rolling it around the appendage toward you, avoiding wrinkles.
Remember to wrap the bandage tightly enough so that it will provide both protection and support to the injured area, but loosely enough so that you will not restrict blood circulation or cause discomfort. Wrap the limb in the position that will be the most comfortable for you, since it will be relatively immobilized.
Leave fingers and toes exposed so that you can frequently check to see if there is adequate blood circulation. If fingers or toes become discolored or numb, or if they feel cooler to the touch than the rest of your body, quickly remove the bandage and apply it again, but much more loosely.
Fasten the bandage using the supplied clips. You can use plastic adhesive tape if you loose the clips.
Remove the bandage when you go to sleep at night. Leaving an elastic bandage on for too long can result in loss of blood circulation, which you might not notice if you are asleep.
Roll the bandage back up neatly if you plan to use it again. Leaving an elastic bandage unrolled can cause it to lose elasticity.
Consult online sources such as the Gannett Health Services and WebMD Web sites for more information on how to effective treat muscle strains (see Resources below).