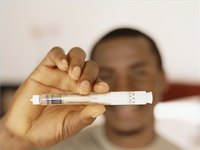 How to Administer a Glucagon Injection. When a diabetic has a hypoglycemic episode (a sudden drop in blood sugar), time is of the essence. If the person is conscious, give her glucose tablets, a sugar soft drink or something else with sugar and then call for emergency service. If the victim is unconscious, a glucagon injection may be the only option.
Things You'll Need
Phone to call for emergency service
Administer A Glucagon Injection
Find the diabetic person's glucagon injection kit, most likely stored in a small zipper case. There will be powder and vials of liquid (GlucaGen) and capped or wrapped syringes inside.
Put 1 mg of the included powder into a vial of GlucaGen.
Roll the vial back and forth quickly between your palms until the powder is dissolved.
Take out a syringe and remove the cap. Push the plunger all the way down.
Plunge the needle into the rubber cap of the vial and draw the liquid into the syringe. Pull the needle out.
Push the plunger gently until a few drops of liquid drip out to be sure that there is no air in the needle.
Plunge the needle all the way into a muscular area such as the curve of the calf. Push the plunger all the way down without any hesitation. Do not administer the Glucagon injection directly into a vein.
Call 911. When the person revives, give him some kind of simple sugar (glucose tablets, fruit juice or hard candy). Keep in mind the diabetic person only has 90 minutes after you administer the injection to receive professional medical attention.