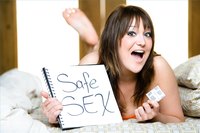 How to Live With HPV. Since most infections caused by the human papilloma virus (HPV) do not have any actual symptoms or sign, living with HPV is much easier than with some other sexually transmitted diseases. The key for you to live normally with HPV is a healthy lifestyle, safe sex practices and knowledge of the virus.
Live With the Human Papilloma Virus (HPV)
While a common sexually transmitted infection, HPV usually does not have a huge impact on you physically. The emotional strain of being diagnosed with HPV is often more disconcerting than any symptoms.
Treat any genital warts you may have that are caused by HPV. Genital warts are highly contagious and the only visible sign of the virus. The warts are white, pink or red cauliflower shaped growths in the vagina and anal areas. The warts may cause itching and could even bleed.
Lead a healthy lifestyle, keeping your immune system strong to help the HPV virus go away and avoid recurrences of genital warts. Most HPV infections simply go away on their own within six months to two years.
Avoid sexual contact during an outbreak of genital warts. Even when using a condom, genital warts can be transmitted. Any wart not directly covered by the condom can make contact with your partner and spread the infection.
Use a condom during sex, since other methods of birth control do not prevent HPV.
Return to your doctor for regular pelvic exams. Your doctor will test to see if there are changes in your cervix, which could be a sign of cervical cancer. Usually, you will want to have an HPV and pap test every six months after an initial positive diagnosis.
Discuss your HPV diagnosis with your partner. Together you should decide how and when you have sex. Your partner should be able to help you through any emotional or physical stress related to the virus.