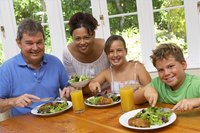 How to Follow a PKU Diet. Phenylketonuria, or PKU for short, is a genetic disorder characterized by the absence or deficiency of the bodily enzyme needed to process phenylalanine, an essential amino acid found in protein. Patients are required to follow a strict diet from birth onwards to prevent the disease's serious neurological complications.
Feed Your Child a PKU Diet
Do not feed a PKU-positive infant regular baby formula or natural breast milk. Both are high in phenylalanine.
Feed your baby a special PKU-friendly formula that safely substitutes the essential nutrients found in phenylalanine.
Avoid feeding your child any protein-rich foods, such as beans, meat, fish, eggs, nuts, legumes and dairy as she continues to grow. Older children are instead given a special drink which, though different in makeup from the special formula fed to infants, still limits phenylalanine intake while providing necessary nutrients.
Do not permit your child to eat anything flavored with artificial sweeteners, particularly aspartame. When digested, aspartame produces amounts of phenylalanine considered dangerous to PKU sufferers.
Follow a PKU Diet Into Adulthood
Stay on the PKU diet for life. While the prevailing medical opinion at one time was that the special diet could be discontinued when the patient reached her teen years, the consensus today is that the diet should be continued throughout adulthood.
Manage your phenylalanine intake with the help of a dietician. Most PKU patients follow a "points system." Foods are assigned a score based on the amount of phenylalanine they contain. Generally, adults are permitted approximately 400 to 500 mg of phenylalanine per day, though specifics may vary. You will have to track everything you eat to ensure you don't exceed your prescribed phenylalanine threshold.
Know that virtually all restaurants have menu offerings that are low in protein and phenylalanine-rich foods. With proper education and diligence, your ability to enjoy eating out will not be seriously compromised.
Discover the joys of herbs and spices. While the PKU diet is high in fruits, vegetables and whole grains, their flavor can be greatly enhanced by using zesty additions like basil, honey, lemon juice, soy sauce and cilantro. All are low in phenylalanine.