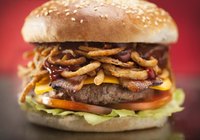 If you've ever experienced a random, acute bout of heartburn, chances are it happened after you ate too much too quickly, the food was too rich or you ate it too late in the day. If you're affected by frequent, recurrent bouts of heartburn, however, you may be suffering from acid reflux, also known as gastroesophageal reflux disease. Although food isn't the primary cause of GERD, your food choices and overall dietary habits have the power to trigger -- or protect against -- acid reflux.
Because several other illness have similar symptoms, including dyspepsia, angina and inflammatory bowel disease, it's important to see your doctor for a proper diagnosis and treatment recommendations.
Avoid Dietary Triggers
Arguably the most important aspect of using diet to prevent GERD symptoms is to avoid food triggers. Keeping a detailed food journal for several weeks can help you identify the foods that are problematic for you. Such foods fall into two general categories: those that relax or irritate the valve-like muscle that separates your esophagus from your stomach, allowing acid to back up into your esophagus; and those that increase acid production during digestion. Common reflux triggers include fried or fatty foods; whole milk; cream-based soups and sauces; onions; tomatoes and tomato products; citrus fruits and juices; caffeinated or carbonated beverages; caffeinated or decaffeinated coffee; alcohol; chocolate and mint. Your personal list of dietary triggers should include any food that seems to consistently provoke reflux symptoms.
Choose Nutritious Foods
People who experience GERD symptoms may be able to reduce the incidence of acid reflux by eating a nutrient-dense, whole-foods based diet, according to the University of Maryland Medical Center. This includes antioxidant-rich fruits and vegetables such as berries, dried beans and dark leafy greens, as well as foods that are rich in B vitamins and calcium, such as nuts, seeds, beans and whole grains. Replacing fatty meats with cold-water fish, dried legumes and other lean protein sources can help protect against acid reflux, as can minimizing or avoiding refined carbohydrates and sugary processed foods. A GERD-healthy diet also calls for 6 to 8 glasses of water a day, most of which should be consumed between meals -- ingesting too much fluid at mealtime can make you more prone to heartburn.
Eat Less at Mealtime
Avoiding dietary triggers and eating whole foods won't protect you from acid reflux if you eat too much at mealtime. Your stomach empties more slowly when it's full, which puts pressure on your esophageal valve and makes it easier for digestive juices -- and even partially digested food -- to flow back up into your throat. As large meals are a common cause of acute, nonrecurrent heartburn in healthy people, they can be particularly troublesome for people with GERD, who are more likely to have poorly functioning esophageal muscles. Eat slowly -- put your fork down between bites to pace yourself -- and stop eating when you're about 80 percent full.
Other Considerations
By keeping a food journal, you may also discover that when you eat -- specifically, the time of day you eat your main meal -- can affect your symptoms. Eating your main meal in the evening -- even if it's served the recommended 2 to 3 hours before you go to sleep -- may make you more prone to nighttime acid reflux. Eating your main meal midday and a smaller meal in the evening may help prevent this.
A wide variety of other things can contribute to acid reflux, too, including stress and anxiety, lying down or exercising soon after eating, smoking, being overweight or taking certain medications.