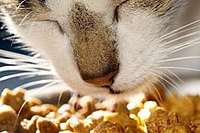 How to Make Organic Cat Food. Many cat owners are turning away from commercial pet foods and are feeding their cats homemade organic pet food. It's easy to make once you know how and it's healthier than store bought pet foods. Here's how to feed your cat safely with your own organic ingredients.
Things You'll Need
A large metal spoon for stirring
An electric meat grinder
Small glass mason jars for storing your natural cat food
3 glass bowls
All the ingredients listed above
Shopping for Supplies
Know the "why" behind the "how" when it comes to making healthy homemade organic pet food for your cat.
Buy meat. Your meat should always be fresh, and organic. This means it is antibiotic and hormone free. A good place to purchase organic, safe meat is a nationwide store called Whole Foods Market. See the resource box for contact and location information. Types of meats to buy are whole chicken, whole rabbit, whole guinea fowl, and turkey thighs (bones included)
Buy organ meat. Organ meat is very rich in vitamins and nutrients. Be aware though that organ meat for your homemade cat food must be organic from non-medicated animals as any toxins in the animal's body will have stored up in the liver and other organs.
Buy psyllium. This can be purchased from just about any grocery or health food store. Buy loose psyllium husk powder for easier handling and measuring.
Buy kelp and dulse. Kelp and dulse are an excellent source of trace minerals to add to your organic pet food. Both are easily found online. Again, buy in the powdered form for easier use.
Buy salmon oil. Salmon oil is an excellent source of essential fatty acids. Whenever possible you should try to use wild salmon oil as opposed to farmed salmon oil as wild salmon has higher levels of EPA (eicosapentaenoic acid) and DHA (docosahexaenoic acid). Capsules that can be used one at a time are best as salmon oil degrades quickly once exposed to air.
Buy a glandular supplement. These supplements are made from real animal glands such as spleen, brain and heart and are a great source of nutrients. Buy the capsules as they are easier than crushing the pills.
Buy vitamin E and B complex. These add to the balanced vitamins and nutrients of a good homemade organic pet food. These can be found at any health store or pharmacy.
Buy an electric grinder. This will make grinding the meat and bones for your homemade cat food so much quicker and easier.
Make the Organic Cat Food
Get out your grinder. You will use this to grind the bones and attached meat for your cat's food.
Assemble all your supplements. Have all the ingredients you need ready and at hand before you begin.
Cut up the animal carcass that you are using for the food into large pieces (as you would when you de-bone a chicken).
Cut most of the meat from the bones (leaving a little attached) and set the bones aside in a large bowl.
Cut the meat into bite-sized chunks. This will allow your cat to chew on something and keep her teeth and gums healthy.
Weigh your organ meat. You will need 400 g (14 oz.) of raw heart meat and 200 g (7 oz.) of raw liver.
Put the organ meats into the same bowl as the meat bones. Put the meat chunks into a separate bowl and store both bowls in the fridge.
You are now ready to make the supplemental part of this organic pet food recipe. Into a large bowl pour 2 cups of water.
Crack 4 raw eggs and separate the yolks. Add the yolks to the bowl.
Add your dry ingredients. You will need 4 capsules of glandular supplement, 4000g of salmon oil, 200 mg of vitamin B, 800 IU of vitamin E, a ¼ teaspoon each of kelp and dulse, and 4 teaspoons of psyllium. Be sure to add the psyllium last. Stir the mixture thoroughly and set aside.
Take the meaty bones and organ meat out of the fridge and grind them together in your electric grinder.
Take the meat chunks out of the fridge and add them to the ground bones and organs. Stir these together.
Add the supplemental mixture to the meat and stir thoroughly.
Spoon the organic cat food into small containers suitable for freezing. Small glass canning jars work perfectly for this. Do not overfill your jars. Leave about a ½-inch gap from the top of the jar.
Label each jar with the type of meat you used and the date it was prepared.
Freeze your jars to keep the ingredients fresh. Take each jar out and thaw as needed to feed your beloved cat.