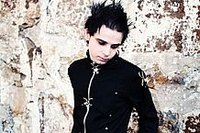 How to be emo? It's the fashion that makes the first impression. They live amongst us, and you've probably seen them growing in numbers. With their unique taste for skulls and broken hearts, new wave inspired hipster sense, and one of a kind hair style, the emo boys are making an impact in our youth culture. Here's a sure fire way to live amongst them without being noticed.
Things You'll Need
New Haircut
Slim Fitted T-shirt
Slim Fitted Jeans
Studded Belt
Converse Shoes
Head accessory (Optional)
Make-up (Optional)
In order to dissect the intricate details of dressing emo, let's start from the head and direct downwards to the toes. If you ever seen an emo haircut, you'll know how the emo boys are very particular about their hairstyle. The picture on the left is a good reference. The way they style their hair is almost artsy-fartsy, and the standard motif they go for is short in the back and long in the front.

Head accesory is not required, but some emo boys actually have ear piercings; such as studs on both ears. Other emo boys actually wear black rimmed glasses to accentuate their style or who knows, maybe they are just really blind <shrugs>. Bottom line is you can wear one or the other, or even better BOTH!

Some go far and beyond with their mug, and just so that their face is not amiss they will accentuate their eyes with some make-up. Eyeliners and eye shadow is a way to step up in this game of emo style. If going with the eye shadow approach, make sure you choose a cranberry red color. A good example of someone who embraced this technique is the lead singer of My Chemical Romance.

Black t-shirts are your friend. Make sure you wear slim fitted tees and never pass up on an opportunity to find a shirt with a ghoulish and self depricating design on it. Common iconic symbols of emo are the broken heart, the bleeding heart, and the every so popular skull.

The term "slim fitted" is key to dressing emo, and you've got to make sure to hook yourself up with some dark, black skin tight jeans.

Know which belt to pick. Just any belt won't do. Be sure to pick a belt that stands out, and the color white is perfect to offset the continual black attire that defines emo fashion. Just for extra measure, make sure your belt has some studs on the sides to give you that extra edge.

Finally, shoes. Shoes do not necessarily have to be anything particulary fancy. The typical kicks the emo-sapiens go for are black Converse shoes. I mean why not? Converse goes pretty much with everything you wear; especially black ones.

You're all set to step in the world of emo and the lifestyle it carries on. Have fun gravitating towards your fellow emo friends, but please do not cut yourself. Life is meant to be enjoyed. Live long and prosper!