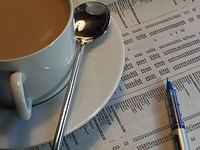 It's very hard to start your own business without any credit. However, let's say that you're a college student with a brilliant idea that will rock the world, yet you can't borrow enough to pay for the flyers to circulate on campus.
The good news is you don't have negative credit, but how do you start to establish your own credit history?
Get a job. Part time is fine, but you need verifiable income. Also, earning money will teach you how much it is really worth.
Get a co-signer The loan will be in your name. You'll make all payments. Make sure that the financial institution reports to one of the credit reporting agencies. Why would a bank let you borrow? Your cosigner is ultimately responsible. Make sure you find somebody who trusts you such as a relative or close friend.
Get a secured loan. I did this with a credit union, to begin my credit history. I deposited $500 cash and borrowed against it. The loan was reported "paid as agreed." I took the money I borrowed and used it as a deposit for a secured credit card. It looks just like a normal Visa or MasterCard, but is backed by your deposit. Secured credit cards charge membership fees and tie up your money. As soon as you start getting normal credit cards, these should be canceled.
Apply to department stores and gas companies. Since these retailers are making money not just on the credit they grant but the products they sell they are more generous in granting credit.
After six months, apply to sub prime lenders. The duration of a credit history is a big factor in whether or not additional credit is granted. After half a year of making payments, sub prime lenders like Household Bank could be willing to take a risk with you.
There are several credit card company's that offer cards with exorbitant fees, or cards that only allow you to buy from a catalog the company publishes, so read the fine print before signing anything.
Another place that could grant credit to somebody starting out would be a car dealer. The loan is secured by the car itself so the lender faces less risk.