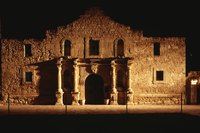 The easiest and most efficient way to book train travel from Dallas to San Antonio is through the Amtrak website. The carrier offers daily journeys between the two cities on the Texas Eagle with a duration of about 10 hours. The Amtrak site allows you to purchase one-way or roundtrip tickets in advance, which often is less expensive than buying them at the station on the day of travel.
Seating Options
Booking online gives you the ability to see all routes, times and fares before choosing the best one to meet your needs. Input your preferred day of travel, then choose between saver, value, flexible or premium price structures. Flexible tickets are 100-percent refundable, while value fares are refundable with restrictions and saver seats are nonrefundable. Premium seats are the most expensive and include a roomette with reclining seats that convert to a bed. Discount programs such as AAA, NARP and student status can be applied to all price levels except saver seats. Check for daily specials, SmartFares, weekday discounts and reduced pricing for military, seniors and children.
Extras
After choosing your tickets, click to access extras such as discounted hotels, rental cars and activities in either Dallas or San Antonio. After entering travel information such as your name, contact number and email address, decide whether to accept the offered travel insurance, then finalize the reservation with online payment by eVoucher or credit card.