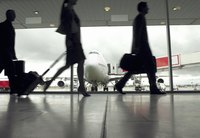 Ryanair is a low-cost, no frills airline that operates in Europe. Based in Ireland, the airline flies to 183 destinations in 30 countries, with more than 1,600 discount flights scheduled per day. In the U.S., you can make a reservation online or by calling a reservation center in one of the countries served by the airline.
Booking Online
The easiest way to buy a ticket on a Ryanair flight is by going online. Open Ryanair.com and select "Find Your Flight." Insert your departure city and destination city. Select one way or roundtrip and use the calendar to indicate your dates of travel. Click on "Find Flights" and you'll see a list of available flights and their prices. Make your choice and add any checked bags or reserved seat choices. Pay with a credit card, debit card or Paypal.
Booking by Phone
Prepare to pay for the privilege of speaking with a reservation agent. Call the number provided on the Ryanair website for the country you're in. You will be charged a base fee for making the call as well as a per-minute fee until the reservation is complete.
Changes and Cancelations
If you need to change your flight, try to do it within 24 hours of buying the ticket, otherwise you'll have to pay penalties. Changes can be made online under "Manage Bookings." You will need to call the reservation center if you want to make any changes or cancelations to a flight for which you have already checked in and there will be additional fees for having a reservation agent "uncheck" you .