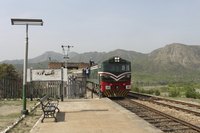 Indian Railways is a labyrinth-like expanse of trains covering transportation to major cities and peripheries alike. However, Indian Railways understands its system is not always tourist-friendly and has enhanced its usability with online tools to enable smooth, frustration-free traveling.
Online Schedule Finder
If you know your route and travel date, Indian Railways has an online tool for finding train and route schedules. Navigate to Indian Railway's Passenger Reservation Enquiry site and locate the link " Reserved Train Between Imp Stations" in the top banner. If your origin and destination are major cities, fill out as much information as you can, then click the "Get Details" button to view a train schedule with alternate routes and train details. If you cannot find your origin and destination in the drop-down station list, find the link at the bottom of the page for trains between any two stations. The landing page allows you to type your origin and destination and queries all Indian Railway stations.
Timetables
Perhaps perusing and comparing timetables works better with your travel plans. From Indian Railway's Passenger Enquiry website, click "Trains at a Glance" in the lower left-hand bar. The Indian Railways timetables are organized by route in a system of table numbers that can be viewed in the "Table Index" drop-down menu; under the "Content" section, click "Route Map With Table Numbers" and find the table number or numbers for your specific route. Once you find the number, open the correlating route schedule from the "Table Index" drop-down menu. Additionally, you are encouraged to call the railway tourism office at 91-11-23405156 or 91-11-23346804 and/or email the office for further inquiries and assistance.