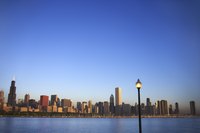 The trip from Milwaukee to Chicago takes about an hour and a half by train, and it's an efficient way to get between these two northern cities on the shores of Lake Michigan. The Amtrak Hiawatha line features 14 trains from Milwaukee to Chicago every day. Once you arrive in Chicago, you can transfer to another train heading in any direction across the U.S.
Booking a Hiawatha Train
The fastest way to book travel between Milwaukee and Chicago is by going online. At Amtrak.com you can type in the day you want to travel and the departure time you'd prefer. You can catch a train from Milwaukee's downtown station or at the airport and you'll arrive in Chicago's Union Station. Choose the train you want and designate how you want to receive your ticket (via email, printed at the station or through an agent). It's also possible to book your ticket at the station or by calling Amtrak at 1-800-872-7245.