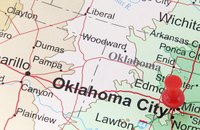 You'll spend about four hours on the train from Oklahoma City to Fort Worth. Choose a window seat so you can watch the rolling hills and scenic treasures of Oklahoma and Texas as you pass through Middle America. Your train is the Amtrak Heartland Flyer, and once you arrive in Fort Worth, you can continue to Dallas and San Antonio or catch a connecting train to Chicago and other points to the east and west.
Amtrak Heartland Flyer
The Heartland Flyer departs Oklahoma City at 8:25 a.m. and arrives in Fort Worth at 12:23 p.m. with five stops in between. You can book a reservation online, by visiting Amtrak.com and selecting the day you want to travel. Once you book, you can have your ticket emailed to you, or you can elect to print it from a kiosk at the station. It's also possible to buy a ticket by calling Amtrak at 1-800-872-7245. There is no ticket office at the Oklahoma City Amtrak station, but there is a Quik- Trak kiosk, where you can print out your ticket from your reservation.