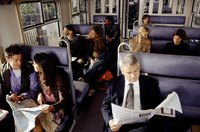 Nearly 400 miles of California coast separate Los Angeles and San Francisco and if you don't want to make the drive up the 101 freeway or Interstate 5, train travel is a great option. The most direct route takes you on Amtrak's Coast Starlight, which departs daily from L.A. and motors all the way to Seattle.
Union Station to Emeryville
The Coast Starlight leaves Union Station in Los Angeles and arrives at the Emeryville Station in San Francisco. It's the closest train station to downtown San Francisco, and a number of bus lines transfer to San Francisco neighborhoods such as Fisherman's Wharf and the Financial District. The trip takes between nine and 11 hours.
Booking a Ticket
Purchase a reservation online at Amtrak.com. You have to put in your departure and arrival stations (LAX and EMY) and indicate the date you wish to travel. Choose the train you want; the direct Coast Starlight train shows up as your first option, or you may select a different train with a connection elsewhere along the route. Pay online with a credit or debit card. If you'd prefer, you can book travel at the station in Los Angeles or over the phone.